Lanes have reopened on eastbound Interstate 80 in Pinole after a big rig overturned, the California Highway Patrol said.
The incident early Friday occurred when the truck's driver took evasive action to avoid hitting a Toyota Camry that was stopped on the No. 4 lane.
"But in the process of making the turning movement the weight shifted in the big rig, allowing the big rig to turn on its left side," CHP Sgt. Nathan White said.
The driver of the Toyota Camry was under the influence of alcohol and was either passed our or sleeping in the driver's seat, White said.
No other information was immediately available.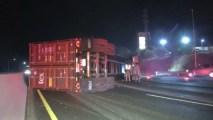 This post was originally posted at http://www.nbcbayarea.com/news/local/Big-Rig-Overturns-on-Interstate-80-in-Pinole-513540791.html.